Product Description
GNC-32×41 GNC Aluminum Alloy Rigid Shaft Coupling Rigid Clamping Coupling

GNC-32×41 GNC Aluminum Alloy Rigid Shaft Coupling Rigid Clamping Coupling

model parameter

common bore diameter d1,d2

ΦD

L

F

M

tightening screw torque
(N.M)

GNC-16×16

3,4,5,6,6.35,7,8

16

16

3.75

M2.5

1

GNC-16×24

3,4,5,6,6.35,7,8

16

24

3.75

M2.5

1

GNC-20×20

4,5,6,6.35,7,8,9,9.525,10

20

20

3.75

M2.5

1

GNC-20×30

4,5,6,6.35,7,8,9,9.525,10

20

30

3.75

M2.5

1

GNC-25×25

5,6,6.35,7,8,9,9.525,10,12

25

25

6

M3

1.5

GNC-25×36

5,6,6.35,7,8,9,9.525,10,12

25

36

6

M3

1.5

GNC-28.5×38

6,6.35,7,8,9,9.525,10,12,12.7,14

28.5

38

7.8

M4

2.5

GNC-32×32

6,6.35,7,8,9,9.525,10,12,12.7,14,15,16

32

32

7

M4

2.5

GNC-32×41

6,6.35,7,8,9,9.525,10,12,12.7,14,15,16

32

41

7.75

M4

2.5

GNC-40×44

8,9,9.525,10,11,12,12.7,14,15,15,17,18,19,20

40

44

10.5

M5

7

GNC-40×52

8,9,9.525,10,11,12,12.7,14,15,15,17,18,19,20

40

52

10.5

M5

7

GNC-50×55

10,11,12,12.7,14,15,16,17,18,19,20,22,24,25

50

55

13

M6

12

GNC-50×66

10,11,12,12.7,14,15,16,17,18,19,20,22,24,25

50

66

16

M6

12

GNC-63×71

10,11,12,12.7,14,15,16,17,18,19,20,22,24,25,28,30,32,35

63

71

16.5

M6

12
model parameter

Rated torque(N.m)

maximum speed

(rpm)

weight

(g)

GNC-16×16

5

1000

7

GNC-16×24

5

9400

13

GNC-20×20

10

7500

15

GNC-20×30

10

7500

25

GNC-25×25

12

6000

29

GNC-25×36

12

6000

43

GNC-28.5×38

14

5500

48

GNC-32×32

15

4700

55

GNC-32×41

15

4700

65

GNC-40×44

19

4000

123

GNC-40×52

19

4000

150

GNC-50×55

45

4000

240

GNC-50×66

45

4000

280

 

 

 

320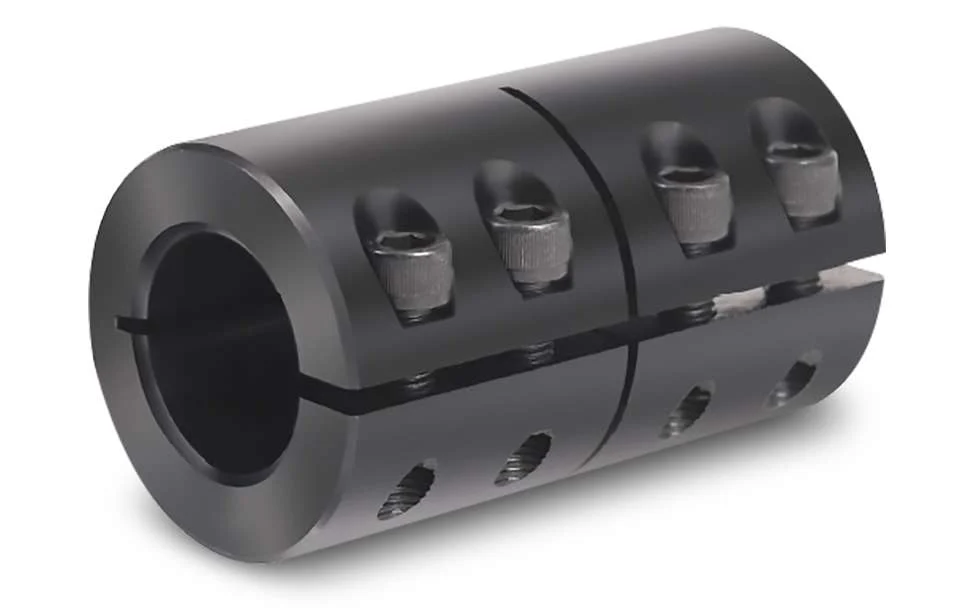 Can Rigid Couplings Be Used in Both Horizontal and Vertical Shaft Arrangements?
Yes, rigid couplings can be used in both horizontal and vertical shaft arrangements. Rigid couplings are designed to provide a solid, non-flexible connection between two shafts, making them suitable for various types of shaft orientations.
Horizontal Shaft Arrangements: In horizontal shaft arrangements, the two shafts are positioned parallel to the ground or at a slight incline. Rigid couplings are commonly used in horizontal setups as they efficiently transmit torque and maintain precise alignment between the shafts. The horizontal orientation allows gravity to aid in keeping the coupling elements securely in place.
Vertical Shaft Arrangements: In vertical shaft arrangements, the two shafts are positioned vertically, with one shaft above the other. This type of setup is often found in applications such as pumps, compressors, and some gearboxes. Rigid couplings can also be used in vertical shaft arrangements, but additional considerations must be taken into account:
Keyless Design: To accommodate the vertical orientation, some rigid couplings have a keyless design. Traditional keyed couplings may experience issues with keyway shear due to the force of gravity on the key, especially in overhung load situations.
Set Screw Tightening: When installing rigid couplings in vertical shaft arrangements, set screws must be tightened securely to prevent any axial movement during operation. Locking compound can also be used to provide additional security.
Thrust Load Considerations: Vertical shaft arrangements may generate thrust loads due to the weight of the equipment and components. Rigid couplings should be chosen or designed to handle these thrust loads to prevent axial displacement of the shafts.
It's essential to select a rigid coupling that is suitable for the specific shaft orientation and operating conditions. Proper installation and alignment are critical for both horizontal and vertical shaft arrangements to ensure the rigid coupling's optimal performance and reliability.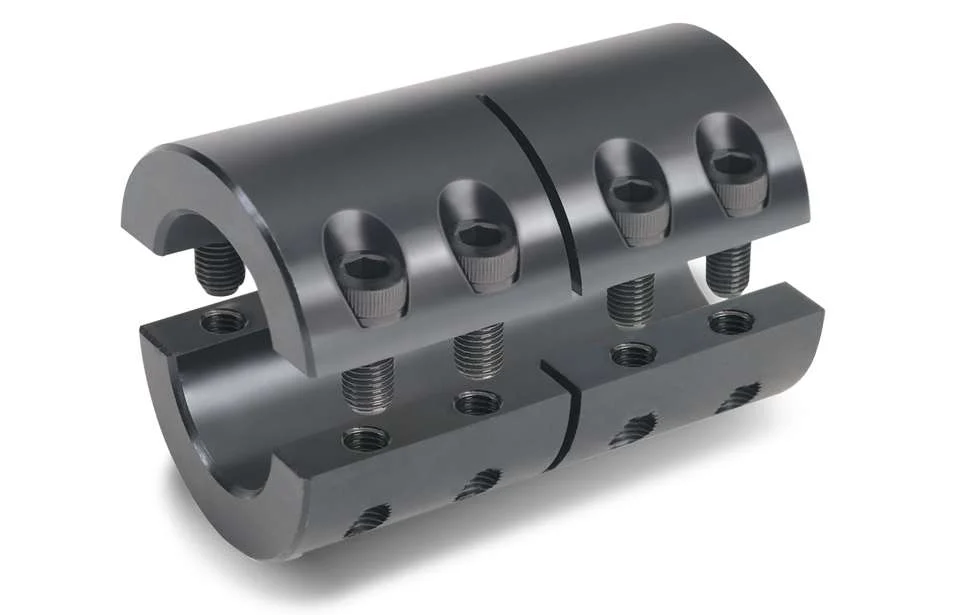 What Industries Commonly Use Rigid Couplings for Power Transmission?
Rigid couplings are widely used in various industries for power transmission applications that require a solid and reliable connection between rotating shafts. Some of the industries that commonly utilize rigid couplings include:
Manufacturing: In the manufacturing industry, rigid couplings are employed in a wide range of equipment, such as conveyors, mixers, pumps, compressors, and machine tools. These couplings ensure precise power transmission and alignment, making them ideal for maintaining accuracy in manufacturing processes.
Material Handling: Material handling equipment, including cranes, hoists, and elevators, often rely on rigid couplings to transfer power between shafts efficiently. Rigid couplings provide a robust connection that can handle the heavy loads and continuous operation common in material handling applications.
Automotive: The automotive industry employs rigid couplings in various automotive systems, including drive shafts, transmissions, and steering systems. Rigid couplings contribute to the overall performance and reliability of these components, ensuring smooth power transfer and minimizing vibration.
Mining and Construction: In the mining and construction industries, rugged and durable power transmission components are crucial. Rigid couplings are used in equipment like crushers, mills, and heavy-duty conveyors, where they can withstand the harsh conditions and heavy loads commonly found in these applications.
Oil and Gas: The oil and gas industry often utilizes rigid couplings in pumps, compressors, and drilling equipment. Rigid couplings offer consistent and dependable power transmission, which is essential for critical operations in this sector.
Marine: In marine applications, such as ship propulsion systems and marine pumps, rigid couplings are used to transmit power between the ship's engine and various equipment. They can handle the dynamic forces and vibrations encountered in marine environments.
Aerospace: In aerospace applications, where precision and reliability are paramount, rigid couplings play a role in power transmission between various aircraft components.
Rigid couplings are chosen in these industries for their ability to maintain shaft alignment, resist misalignment, and provide a backlash-free connection. Their robust construction and simple design make them suitable for high torque and high-speed applications, where precision and efficiency are crucial.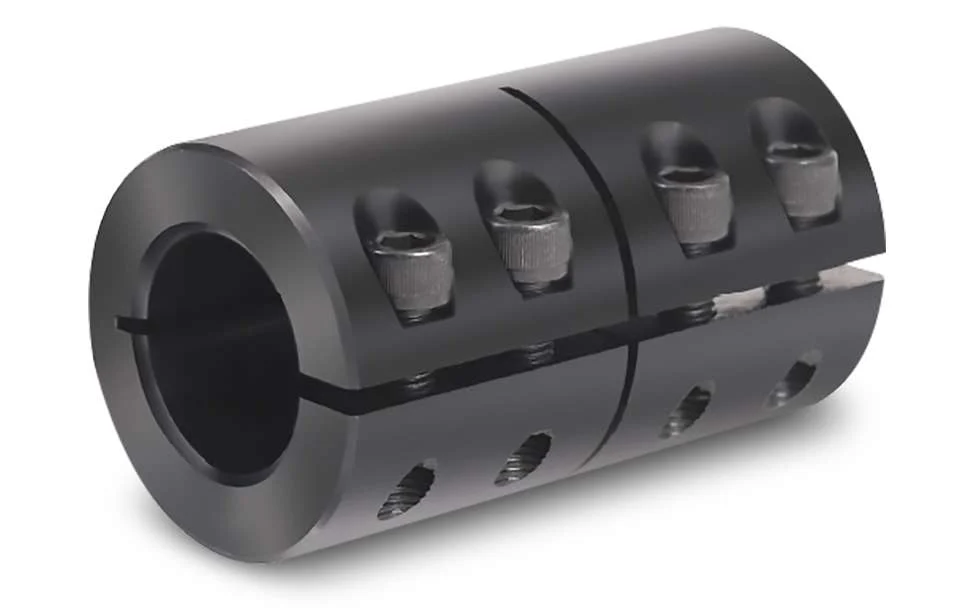 What is a Rigid Coupling and How Does it Work?
A rigid coupling is a type of mechanical coupling used to connect two shafts together at their ends to transmit torque and rotational motion without any flexibility or misalignment accommodation. Unlike flexible couplings, rigid couplings do not allow for angular, parallel, or axial misalignment between the shafts. The main purpose of a rigid coupling is to provide a strong and solid connection between two shafts, ensuring precise and synchronous power transmission between them.
Structure and Design:
Rigid couplings are typically made from durable materials such as steel, stainless steel, or aluminum, which can withstand high torque and load applications. The coupling consists of two halves, each with a cylindrical bore that fits tightly onto the respective shafts. The two halves are then fastened together using bolts or set screws to ensure a secure and rigid connection.
Working Principle:
The working principle of a rigid coupling is straightforward. When the two shafts are aligned precisely and the coupling is securely fastened, any torque applied to one shaft gets directly transferred to the other shaft. The rigid coupling essentially makes the two shafts act as one continuous shaft, allowing for synchronous rotation without any relative movement or play between them.
Applications:
Rigid couplings are commonly used in applications where precise alignment and torque transmission are essential. Some common applications of rigid couplings include:
High-precision machinery and equipment
Robotics and automation systems
Precision motion control systems
Machine tools
Shaft-driven pumps and compressors
Advantages:
The key advantages of using rigid couplings include:
High Torque Transmission: Rigid couplings can handle high torque and power transmission without any loss due to flexibility.
Precision: They provide accurate and synchronous rotation between the shafts, making them suitable for precise applications.
Simple Design: Rigid couplings have a simple design with minimal moving parts, making them easy to install and maintain.
Cost-Effective: Compared to some other coupling types, rigid couplings are generally more cost-effective.
Limitations:
Despite their advantages, rigid couplings have certain limitations:
No Misalignment Compensation: Rigid couplings cannot accommodate any misalignment between the shafts, making precise alignment during installation crucial.
Transmits Vibrations: Since rigid couplings do not dampen vibrations, they can transmit vibrations and shocks from one shaft to the other.
Stress Concentration: In some applications, rigid couplings can create stress concentration at the ends of the shafts.
In summary, rigid couplings are ideal for applications that require precise alignment and high torque transmission. They offer a robust and straightforward solution for connecting shafts and ensuring synchronous power transmission without any flexibility or misalignment accommodation.



editor by CX 2023-10-07