Product Description
GW-39X65.5 GW Type Servo Shaft Coupling Rigid

GW-39X65.5 GW Type Servo Shaft Coupling Rigid

| | | | | | | | | |
| --- | --- | --- | --- | --- | --- | --- | --- | --- |
| model parameter | common bore diameter d1,d2 | ΦD | L | LF | LP | d3 | S | tightening screw torque(N.M) |
| GW-19X34 | 3,4,5,6,6.35,7,8 | 19 | 34 | 9.1 | 5.2 | Φ9 | 1.8 | 1 |
| GW-26X44.5 | 5,6,6.35,7,8,9,9.525,10,11,12,14 | 26 | 44.5 | 11.65 | 6.5 | Φ12.5 | 2.6 | 1.5 |
| GW-32X54 | 5,6,6.35,7,8,9,9.525,10,11,12,12.7,14,15, | 32 | 54 | 12.25 | 9.5 | Φ15 | 3.5 | 1.5 |
| GW-34X58 | 5,6,6.35,7,8,9,9.525,10,11,12,12.7,14,15,16 | 34 | 58 | 14.25 | 9.5 | Φ16 | 3.5 | 2.5 |
| GW-39X65.5 | 8,9,9.525,10,11,12,12.7,14,15,16,17,18,19 | 39 | 65.5 | 14.9 | 11.2 | Φ19.3 | 4.5 | 2.5 |
| GW-44X65.5 | 8,9,9.525,10,11,12,12.7,14,15,16,17,18,19,20,22,24 | 44 | 65.5 | 14.9 | 11.2 | Φ22.5 | 4.5 | 2.5 |
| GW-50X80 | 8,9,9.525,10,11,12,12.7,14,15,16,17,18,19,20,22,24,25 | 50 | 80 | 20.6 | 12.2 | Φ23 | 4.8 | 7 |
| GW-56X83 | 10,12,14,15,16,17,18,19,20,22,24,25,28,30,32 | 56 | 83 | 19.75 | 13.5 | Φ32.5 | 5.5 | 7 |
| GW-68X97 | 12,14,15,16,17,18,19,20,22,24,25,28,30,32,35,38 | 68 | 97 | 23.35 | 15.7 | Φ38.3 | 6.3 | 12 |
| GW-82X128 | 17,18,19,20,22,24,25,28,30,32,35,38,40,42 | 82 | 128 | 30 | 22 | Φ45.5 | 8 | 20 |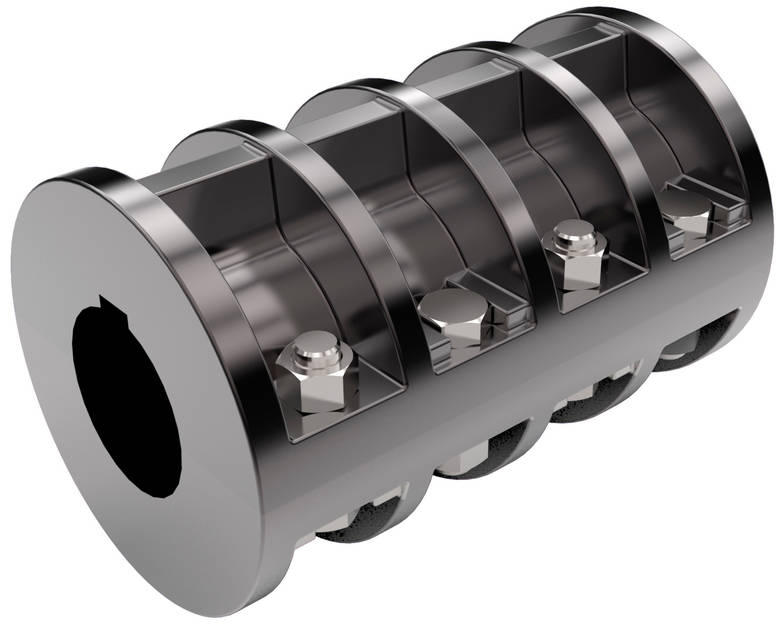 How Does a Rigid Coupling Protect Connected Equipment from Shock Loads and Vibrations?
Rigid couplings play a crucial role in protecting connected equipment from shock loads and vibrations by providing a direct and rigid connection between the shafts. The design and properties of rigid couplings contribute to their ability to mitigate the impact of shock loads and vibrations in the following ways:
– High Stiffness: Rigid couplings are constructed from materials with high stiffness, such as steel or aluminum. This high stiffness allows them to resist deformation and bending under load, ensuring that the coupling remains stable and maintains its shape. As a result, the shock loads and vibrations are not amplified or transferred to the connected equipment.
– Immediate Torque Transmission: Rigid couplings provide immediate torque transmission between the shafts without any backlash or play. When the connected machinery experiences a sudden shock load, the rigid coupling effectively transfers the torque to the other side of the coupling without delay. This rapid and precise torque transfer prevents the shock load from causing misalignment or damaging the equipment.
– Elimination of Damping: Unlike flexible couplings, which can dampen vibrations to some extent, rigid couplings do not have any damping properties. While damping can be beneficial in certain applications, it can also allow vibrations to persist, potentially affecting the performance and reliability of the connected equipment. Rigid couplings do not introduce any additional damping, ensuring that the vibrations are not prolonged.
– Stable Connection: Rigid couplings create a stable and unyielding connection between the shafts, limiting any relative movement. This stability prevents the propagation of vibrations from one shaft to another, reducing the potential for resonance and vibration amplification.
– Minimal Maintenance: Rigid couplings require minimal maintenance due to their simple and durable design. Unlike flexible couplings that may have wear-prone elements, rigid couplings do not have parts that need regular replacement. This reliability and low maintenance contribute to their ability to provide continuous protection against shock loads and vibrations.
In applications where shock loads and vibrations are prevalent, using a rigid coupling can help protect critical machinery and components from damage and premature failure. By providing a rigid and immediate torque transmission, rigid couplings effectively isolate the connected equipment from the harmful effects of shock loads and vibrations, ensuring smooth operation and enhanced reliability.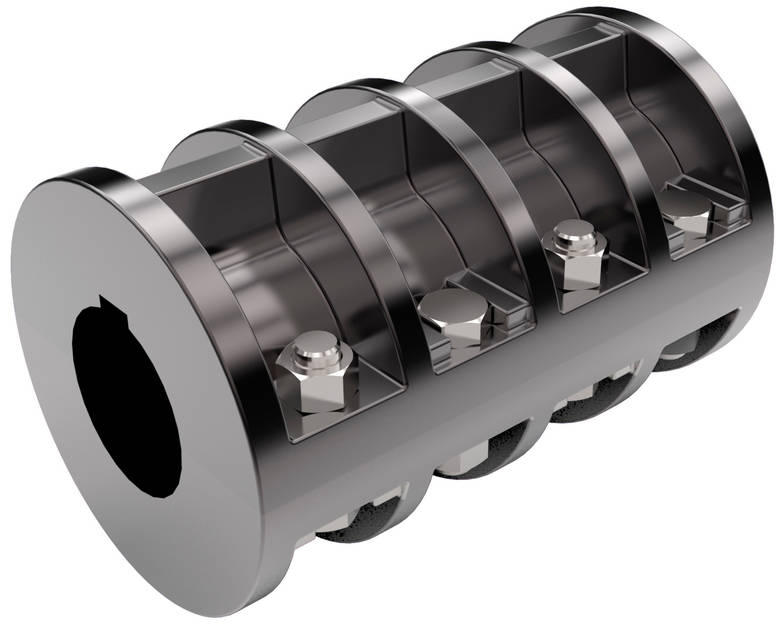 Can Rigid Couplings Be Used in Applications with Varying Operating Temperatures?
Rigid couplings are versatile mechanical components that can be used in a wide range of applications, including those with varying operating temperatures. However, the selection of the appropriate material for the rigid coupling is crucial to ensure its reliable performance under different temperature conditions.
Material Selection: The choice of material for the rigid coupling depends on the specific operating temperature range of the application. Common materials used in manufacturing rigid couplings include steel, stainless steel, and aluminum, among others. Each material has its own temperature limitations:
– Steel: Rigid couplings made from steel are suitable for applications with moderate to high temperatures. Steel couplings can handle temperatures ranging from -40°C to around 300°C, depending on the specific grade of steel used.
– Stainless Steel: Stainless steel rigid couplings offer higher corrosion resistance and can be used in applications with more demanding temperature environments. They can withstand temperatures from -80°C to approximately 400°C.
– Aluminum: Aluminum rigid couplings are commonly used in applications with lower temperature requirements, typically ranging from -50°C to around 120°C.
Thermal Expansion: When selecting a rigid coupling for an application with varying temperatures, it is essential to consider thermal expansion. Different materials have different coefficients of thermal expansion, meaning they expand and contract at different rates as the temperature changes. If the operating temperature fluctuates significantly, the thermal expansion of the rigid coupling and the connected components must be carefully accounted for to avoid issues with misalignment or binding.
Extreme Temperature Environments: For applications with extremely high or low temperatures beyond the capabilities of traditional materials, specialized high-temperature alloys or composites may be required. These materials can withstand more extreme temperature conditions but may come with higher costs.
Lubrication: The choice of lubrication can also play a role in the suitability of rigid couplings for varying temperature applications. In high-temperature environments, consideration should be given to using high-temperature lubricants that can maintain their effectiveness and viscosity at elevated temperatures.
In conclusion, rigid couplings can indeed be used in applications with varying operating temperatures, but careful material selection, consideration of thermal expansion, and appropriate lubrication are essential to ensure reliable and efficient performance under changing temperature conditions.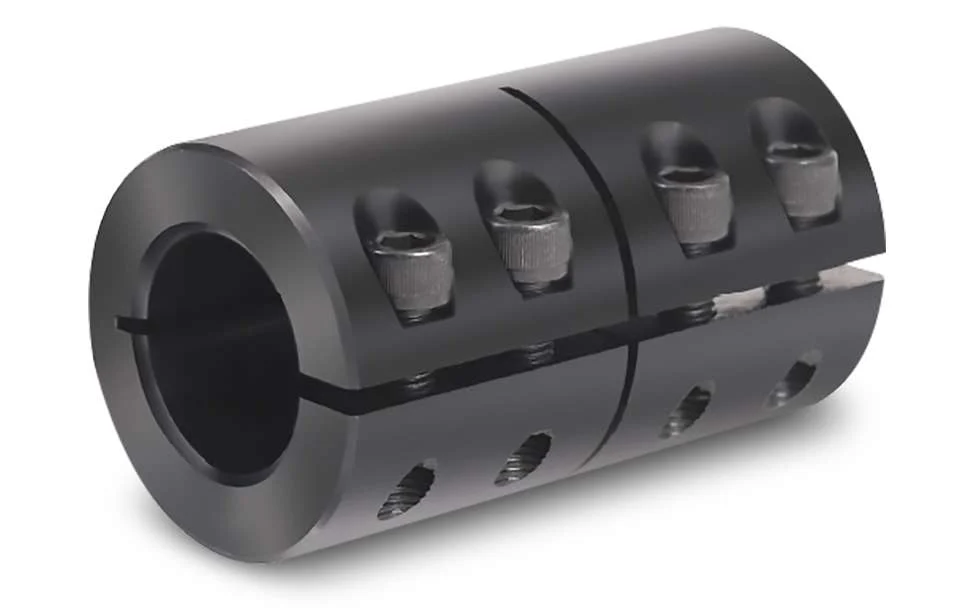 What is a Rigid Coupling and How Does it Work?
A rigid coupling is a type of mechanical coupling used to connect two shafts together at their ends to transmit torque and rotational motion without any flexibility or misalignment accommodation. Unlike flexible couplings, rigid couplings do not allow for angular, parallel, or axial misalignment between the shafts. The main purpose of a rigid coupling is to provide a strong and solid connection between two shafts, ensuring precise and synchronous power transmission between them.
Structure and Design:
Rigid couplings are typically made from durable materials such as steel, stainless steel, or aluminum, which can withstand high torque and load applications. The coupling consists of two halves, each with a cylindrical bore that fits tightly onto the respective shafts. The two halves are then fastened together using bolts or set screws to ensure a secure and rigid connection.
Working Principle:
The working principle of a rigid coupling is straightforward. When the two shafts are aligned precisely and the coupling is securely fastened, any torque applied to one shaft gets directly transferred to the other shaft. The rigid coupling essentially makes the two shafts act as one continuous shaft, allowing for synchronous rotation without any relative movement or play between them.
Applications:
Rigid couplings are commonly used in applications where precise alignment and torque transmission are essential. Some common applications of rigid couplings include:
High-precision machinery and equipment
Robotics and automation systems
Precision motion control systems
Machine tools
Shaft-driven pumps and compressors
Advantages:
The key advantages of using rigid couplings include:
High Torque Transmission: Rigid couplings can handle high torque and power transmission without any loss due to flexibility.
Precision: They provide accurate and synchronous rotation between the shafts, making them suitable for precise applications.
Simple Design: Rigid couplings have a simple design with minimal moving parts, making them easy to install and maintain.
Cost-Effective: Compared to some other coupling types, rigid couplings are generally more cost-effective.
Limitations:
Despite their advantages, rigid couplings have certain limitations:
No Misalignment Compensation: Rigid couplings cannot accommodate any misalignment between the shafts, making precise alignment during installation crucial.
Transmits Vibrations: Since rigid couplings do not dampen vibrations, they can transmit vibrations and shocks from one shaft to the other.
Stress Concentration: In some applications, rigid couplings can create stress concentration at the ends of the shafts.
In summary, rigid couplings are ideal for applications that require precise alignment and high torque transmission. They offer a robust and straightforward solution for connecting shafts and ensuring synchronous power transmission without any flexibility or misalignment accommodation.



editor by CX 2023-10-04