Product Description
CLZ Gear Coupling(JB/ZQ4219-1983)
CLZ gear coupling is suitable for connecting 2 horizontal coaxial transmission shafts. It has the capability of compensating the relative offset of 2 axes.
The weight and moment of inertia of the coupling are approximate values calculated according to the minimum diameter and maximum length of the shaft hole.
 
·CLZ Gear Coupling Main Dimension And Parameter(JB/ZQ4219-1986)
Note:
1. The shaft hole dimension with * only to d1.
2. This standard applies only to old products.
·Features
1. Tooth coupling has small radial dimension and large load-carrying capacity. It is often used for shafting transmission under low speed and heavy load conditions. Tooth coupling with high accuracy and dynamic balance can be used for high speed transmission.
2. It has the ability to compensate the deviation of radial, axial and angular equiaxes.
3. It has compact structure, small turning radius, large bearing capacity, high transmission efficiency, low noise and maintenance cycle.
·Product Display
♦Other Products List
Transmission Machinery 
Parts Name
Model
Universal Coupling
WS,WSD,WSP
Cardan Shaft
SWC,SWP,SWZ
Tooth Coupling
CL,CLZ,GCLD,GIICL,
GICL,NGCL,GGCL,GCLK
Disc Coupling
JMI,JMIJ,JMII,JMIIJ
High Flexible Coupling
LM
Chain Coupling
GL
Jaw Coupling
LT
Grid Coupling
JS
♦Our Company
HangZhou CHINAMFG Machinery Manufacturing Co., Ltd. is a high-tech enterprise specializing in the design and manufacture of various types of coupling. There are 86 employees in our company, including 2 senior engineers and no fewer than 20 mechanical design and manufacture, heat treatment, welding, and other professionals.
Advanced and reasonable process, complete detection means. Our company actively introduces foreign advanced technology and equipment, on the basis of the condition, we make full use of the advantage and do more research and innovation. Strict to high quality and operate strictly in accordance with the ISO9000 quality certification system standard mode.
Our company supplies different kinds of products. High quality and reasonable price. We stick to the principle of "quality first, service first, continuous improvement and innovation to meet the customers" for the management and "zero defect, zero complaints" as the quality objective. 
♦Our Services
1.Design Services
Our design team has experience in cardan shaft relating to product design and development. If you have any needs for your new product or wish to make further improvements, we are here to offer our support.
2.Product Services
raw materials → Cutting → Forging →Rough machining →Shot blasting →Heat treatment →Testing →Fashioning →Cleaning→ Assembly→Packing→Shipping
3.Samples Procedure
We could develop the sample according to your requirement and amend the sample constantly to meet your need.
4.Research & Development
We usually research the new needs of the market and develop the new model when there is new cars in the market.
5.Quality Control
Every step should be special test by Professional Staff according to the standard of ISO9001 and TS16949.
♦FAQ
Q 1: Are you trading company or manufacturer?
A: We are a professional manufacturer specializing in manufacturing
various series of couplings.
Q 2:Can you do OEM?
Yes, we can. We can do OEM & ODM for all the customers with customized artworks of PDF or AI format.
Q 3:How long is your delivery time?
Generally it is 20-30 days if the goods are not in stock. It is according to quantity.
Q 4: Do you provide samples ? Is it free or extra ?
Yes, we could offer the sample but not for free.Actually we have a very good price principle, when you make the bulk order then cost of sample will be deducted.
Q 5: How long is your warranty?
A: Our Warranty is 12 month under normal circumstance.
Q 6: What is the MOQ?
A:Usually our MOQ is 1pcs.
Q 7: Do you have inspection procedures for coupling ?
A:100% self-inspection before packing.
Q 8: Can I have a visit to your factory before the order?
A: Sure,welcome to visit our factory.
Q 9: What's your payment?
A:1) T/T.
♦Contact Us
Web: huadingcoupling
Add: No.11 HangZhou Road,Chengnan park,HangZhou City,ZheJiang Province,China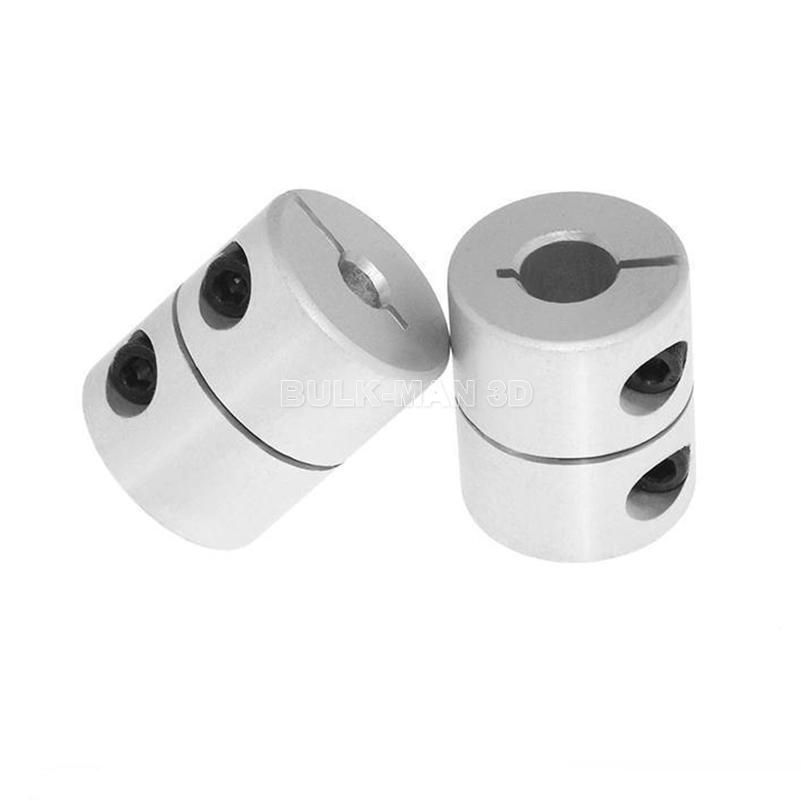 What are the potential drawbacks or limitations of using rigid shaft couplings in certain applications?
Rigid shaft couplings, while offering benefits in certain scenarios, also have limitations that should be considered when selecting them for specific applications:
Minimal Misalignment Compensation: Rigid couplings have limited ability to compensate for shaft misalignment, making them less suitable for applications with significant misalignment.
Transmits Vibrations: Rigid couplings do not dampen vibrations, which can lead to increased wear and fatigue in connected components and decrease overall system lifespan.
Higher Stress Concentration: Due to their rigid nature, these couplings can result in higher stress concentrations at the coupling ends, potentially leading to premature failure.
Noisy Operation: Rigid couplings can amplify noise generated by connected equipment, contributing to a noisier operating environment.
Requires Precise Alignment: Proper alignment during installation is crucial to prevent excessive loads on equipment and ensure reliable operation.
Less Torsional Damping: Rigid couplings lack the torsional damping capabilities of some other coupling types, which may be necessary in systems with varying loads.
Less Forgiving: Rigid couplings can transmit shocks and impacts directly to connected equipment, which may not be suitable for applications with frequent starts, stops, or heavy loads.
It's important to carefully assess the specific requirements of an application and consider factors such as misalignment, vibration, torque transmission, and environmental conditions when deciding whether to use a rigid shaft coupling. In cases where the limitations of rigid couplings may pose challenges, other coupling types such as flexible, torsionally soft, or damping couplings could be more appropriate alternatives.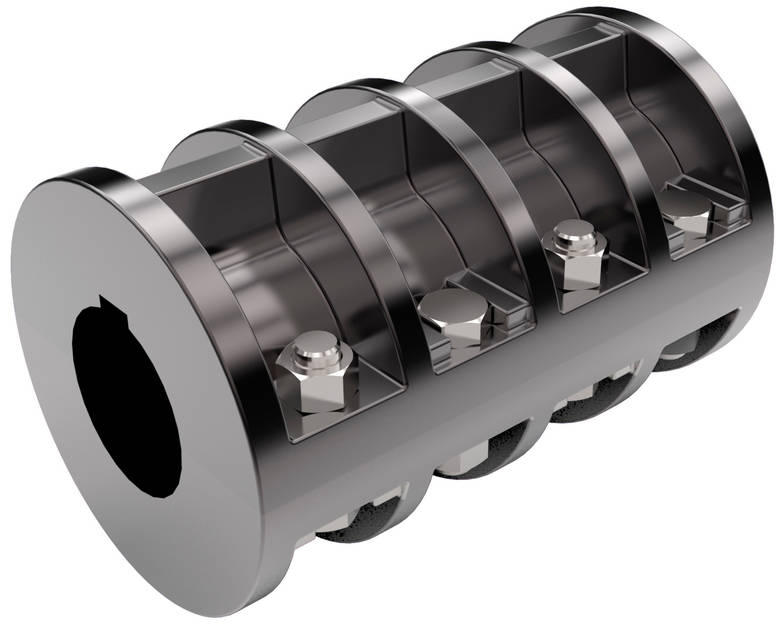 How do rigid shaft couplings contribute to the overall efficiency of rotating machinery?
Rigid shaft couplings play a crucial role in enhancing the overall efficiency and performance of rotating machinery by ensuring precise torque transmission, accurate shaft alignment, and reduced power losses. Their contribution to efficiency can be understood through the following points:
Accurate Torque Transmission: Rigid couplings provide a direct and efficient connection between two shafts, allowing torque to be transmitted without significant losses. Unlike flexible couplings that can absorb some energy through flexibility, rigid couplings minimize energy dissipation, leading to efficient power transfer.
Minimized Misalignment: Proper alignment of shafts is essential for efficient operation. Rigid couplings maintain accurate shaft alignment, reducing friction, wear, and energy losses that can occur due to misaligned shafts.
Reduced Vibrations: By preventing misalignment and maintaining shaft stability, rigid couplings help minimize vibrations. Reduced vibrations lead to smoother operation, less wear and tear, and a decrease in energy losses associated with friction and oscillations.
Consistent Performance: Rigid couplings ensure consistent and reliable torque transmission throughout the machinery's operation. This stability helps maintain optimal operating conditions and prevents sudden disruptions or fluctuations in performance.
Enhanced System Integrity: A stable and secure connection between shafts provided by rigid couplings reduces the risk of equipment failures and breakdowns. This enhances the machinery's overall reliability and uptime, contributing to improved efficiency.
Minimized Power Losses: With their rigid construction, these couplings have minimal flexibility, reducing power losses associated with elastic deformation. As a result, more of the input power is effectively utilized for productive work.
Reduced Maintenance Needs: Rigid couplings, when properly installed and maintained, experience fewer wear-related issues compared to flexible couplings. This translates to reduced downtime and maintenance requirements, further enhancing machinery efficiency.
Efficient rotating machinery is critical for various industries, as it leads to cost savings, improved productivity, and extended equipment lifespan. Rigid shaft couplings contribute significantly to achieving these goals by ensuring reliable torque transmission, stable operation, and minimized energy losses.
It's important to note that while rigid couplings offer advantages in terms of efficiency, they might not be suitable for applications requiring flexibility to accommodate misalignment or shock absorption. Engineers should carefully consider the specific requirements of their machinery and select couplings that best align with the desired balance of efficiency, flexibility, and other operational needs.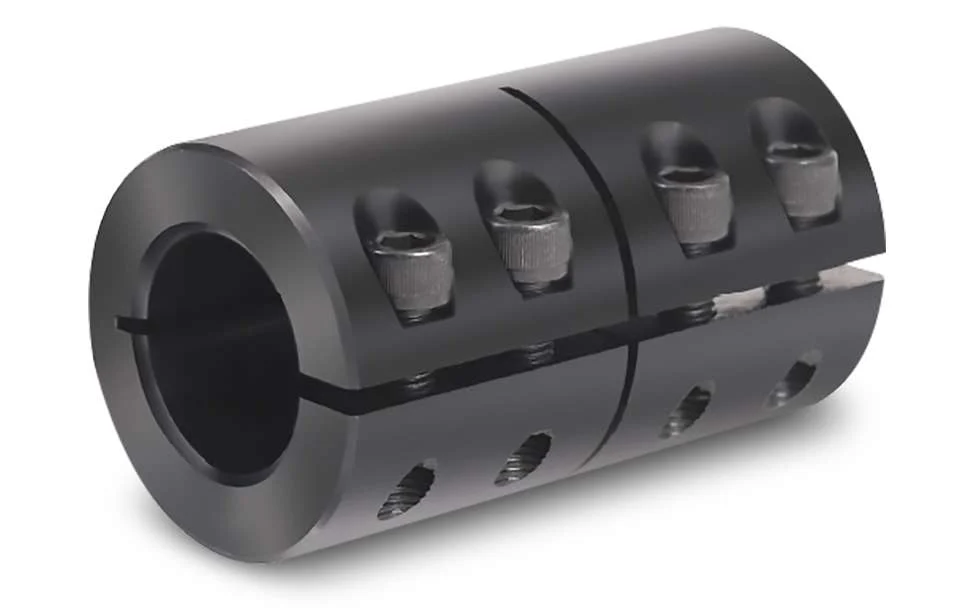 What is a Rigid Shaft Coupling and How Does It Work in Mechanical Systems?
A rigid shaft coupling is a type of coupling used to connect two shafts together in a mechanical system. As the name suggests, it is designed to provide a rigid and solid connection between the shafts, without any flexibility or misalignment compensation.
The primary function of a rigid shaft coupling is to transmit torque from one shaft to another efficiently and with minimal backlash. It achieves this by directly connecting the two shafts using a rigid mechanical interface.
Rigid shaft couplings typically consist of two halves with flanges that are bolted or clamped together around the shaft ends. The flanges are precision machined to ensure accurate alignment of the shafts. Some common types of rigid shaft couplings include:
Sleeve Couplings: These are the simplest type of rigid couplings and consist of a cylindrical sleeve with a bore that fits over the shaft ends. The two shafts are aligned and then secured together using screws or pins.
Clamp or Split Couplings: These couplings have two halves that are split and bolted together around the shafts. The split design allows for easy installation and removal without the need to disassemble other components of the system.
Flanged Couplings: Flanged couplings have two flanges with precision machined faces that are bolted together, providing a robust connection.
Tapered Bushing Couplings: These couplings use a tapered bushing to lock the coupling onto the shafts, creating a secure and concentric connection.
Rigid shaft couplings are commonly used in applications where precise alignment is critical, such as in high-speed machinery, precision instruments, and power transmission systems. Since they do not have any flexibility, they are best suited for applications where shaft misalignment is minimal or can be controlled through accurate alignment during installation.
One of the main advantages of rigid shaft couplings is their ability to provide a direct and efficient transfer of torque, making them suitable for high-torque and high-speed applications. Additionally, their simple design and solid connection make them easy to install and maintain.
However, it's essential to ensure proper alignment during installation to prevent premature wear and stress on the shafts and other components. In cases where misalignment is expected or unavoidable, flexible couplings like beam couplings, bellows couplings, or jaw couplings are more appropriate, as they can compensate for small misalignments and provide some degree of shock absorption.



editor by CX 2023-11-16