Product Description
Trade Size
Outside Diameters ( inch – mm )
Minimum Wall Thickness ( inch – mm ) 

inch – mm

Maximum

Minimum

Schedule 40

Schedule 80

1/2 – 16

0.848 – 21.54

0.832 – 21.13

0.109 – 2.77

0.147 – 3.73

3/4 -21

1.060 – 26.92

1.040 – 26.42

0.113 – 2.87

0.154 – 3.91

1 – 27

1.325 – 33.66

1.305 – 33.15

0.133 – 3.38

0.179 – 4.55

1-1/4 – 35

1.672 – 42.47

1.648 – 41.86

0.140 – 3.56

0.191 – 4.85

1-1/2 – 41

1.912 – 48.56

1.888 – 47.96

0.145 – 3.68

0.200 – 5.08

2 – 53

2.387 – 60.63

2.363 – 60.02

0.154 – 3.91

0.218 – 5.54

2-1/2 – 62

2.890 – 73.41

2.860 – 72.64

0.203 – 5.16

0.276 – 7.01

3 – 78

3.515 – 89.28

3.485 – 88.52

0.216 – 5.49

0.300 – 7.62

3-1/2 – 91

4.050 – 102.87

3.950 – 100.33

0.226 – 5.74

0.318 – 8.08

4 – 103

4.550 – 115.57

4.450 – 113.03

0.237 – 6.03

0.337 – 8.56

5 – 129

5.613 – 142.57

5.513 – 140.03

0.258 – 6.55

0.375 – 9.52

6 – 155

6.675 – 169.54

6.575 – 167.00

0.280 – 7.11

0.432 – 10.97
INTRODUCTION
The main raw material of PVC-U piping network is PVC resin, which is added moderate stabilizer, lubricant, fillers, and toner. After the 
process of mixing, extrusion, sizing, cooling, and cutting, the PVC-U pipe can be made. The PVC-U fittings are made by injection. The 
PVC-U material doesn't readily conduct electricity, which can undertake more than 25KV voltage. The PVC-U material has very good 
chemical properties, physical property and insulating property, which can suit for most of the normal insulation protection 
application. 
This series of PVC-U insulting electrical pipes and fittings are suit for UL standard. 
FEATURES OF PRODUCT
High Insulating Property: 
PVC-U material resists the electricity, which can undertake more than 25KV voltage. 
High Impact Resistance: 
This material of pipes and fittings can suit to be laid in the concrete. 
Non – flammable: 
PVC-U material has high limiting oxygen index, which is very difficult to burn, and has died out by itself, when it is away from the fire. 
Corrosion Resistant: 
PVC-U material has strong resistance to most of acid and alkali. No rust, no antiseptic treatment. The service life is 4 times than that 
of cast iron. 
Light Weight and Easy Installation: 
Weight is very light. The density of PVC-U is only 1/5 to 1/6 of that of cast iron. The method of connection is very simple, and the 
process of installation is very quickly. 
High Tensile Strength: 
PVC-U has high tensile strength, and high shock strength. The piping network of PVC-U is not easy to break, and it works safety. 
Long Service Life: 
The piping network with normal material can be used around 20 to 30 years, but the PVC-U piping network can be used longer than 
50 years. 
Cheaper Prices: 
The price of PVC-U piping network are cheaper than that of cast iron. 
FIELDS OF APPLICATION
Piping networks for power or lighting in building. 
Piping networks for being laid in the concrete or wall. 
Piping networks for post, telecommunications, and network cabling. 
SERVICE
1. We are a manufacturer of plastic tubes and fittings. We accept OEM business.
2. We supply stop valve,pipe end cap,equal/reduceing tee,cold hot water ball valve,union ball valve,threaded elbow(plastic or with metal) and so on.
3. We also supply the connectors Accordingly.
4. We can offer you very competitive prices for some pipes.
5. We welcome you to visit our web and our factory. Your visiting will be highly appreciated.
6. It is my pleasure to help you.
7.If you need more customized services and offers,Please Contact Us.
MORE PRODUCT
OUR ADVANTAGE
1.high quality&industrial leading price
2.quick order processing & on-time delivery
3.extremely long usage life for at least 5 years
4.innovative & customer-oriented
5.rich experience in exportation
6.best quality & best service with competitive price
7.easy and fast installation, making cost minimized
8.healthy and non-toxic, free of stain,recycable, enviromentally friendly
9.Modern technical equipment in combination with proficient manual work.
10.Lightweight, convenient to transport and handle, good for labor-saving.
ABOUT TIANYAN
(1) CHINAMFG Factory
It is a well-known solution provider for plastic piping system in the world,whose customers come from more than 60 countries and regions.Building piping system application,industrial piping system application,agricultural piping system application,and their professional solutions are the mainly business
(2) Customization
(3) Social Responsibility
(4) 6S Management
(5) Certificate
(6) Process Quality Control
(7) Each Process is CareFully Made
(8) Packing & Delivery

FAQ
1. Are you a manufacture or trading company?
We are a well-known solution provider for plastic piping system in the world with 26 years professional experience. Welcome to visit and investigate us, you would find the difference with others.
2. Do you offer OEM service?
Yes. We have our famous brand name. But we can offer OEM service also, with same quality. We can review and accept customer design, or design based on customer requirements, by our professional R&D team.
3.Why Choose Us?
Trust in our experience.
We supply many different standards professional products for more than 60 countries and areas in the world.
Trust in our authority.
We had many professional inspections and certificates. We had passed inspections of CE,  SGS, and get the certificates of ISO 9001, ISO 14001, OHSAS 18001, and WRAS, and so on.
Trust in our solutions.
We have professional R&D team, QA&QC team, marketing team. We have many patents and awards, can supply highest quality OEM products, and help you and do with you to settle any kind of logistical problems.
Trust in our production capacity.
We have more than 30 pipe extruding machines, and 200 injection molding machines. And those figures still increase each year.
Trust in our financial management capacity.
We obtain the "ZHangZhoug Top Export Brand" by government. We have the ability to make each your US cent efficient. Each cent, which you pay us, would be worth.
4.How to Get a Sample?
Please apply sample.
We can apply free sample for inspection, after the prices confirmed.
Sample is free.
We would supply you sample for free, and freight is collected, if you need a sample to confirm. You also can pay freight to us in advance, and let us prepaid freight, if you thought the prepaid freight is lower than collected freight.
Freight is free.
We will undertake the freight, and pay the money into your deposit, if you give the order to us finally.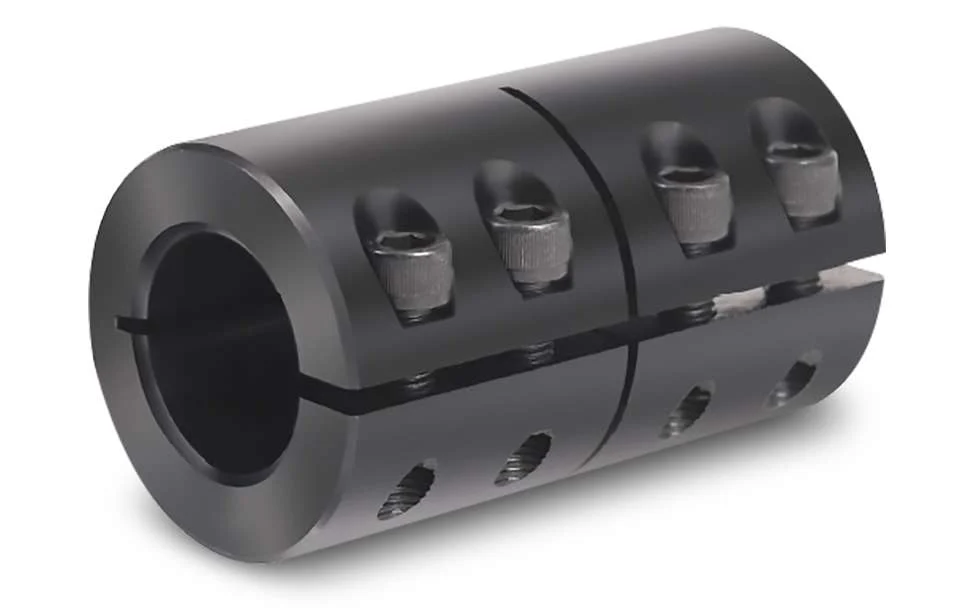 Can Rigid Couplings Handle Misalignment Between Shafts?
Rigid couplings are not designed to handle misalignment between shafts. Unlike flexible couplings that can accommodate slight misalignment through their bending or elastic properties, rigid couplings are intended to provide a fixed and immovable connection between two shafts. As a result, any misalignment between the shafts can lead to increased stress and uneven loading on connected components.
It is essential to ensure precise alignment when using rigid couplings to avoid premature wear and failure of the system. The shafts must be perfectly aligned in both the axial and angular directions before installing the rigid coupling. Proper alignment helps distribute the load evenly and reduces stress concentration on specific areas, such as bearings and keyways.
If a system requires some level of misalignment compensation due to factors like thermal expansion or slight shaft deflection, a flexible coupling should be considered instead. Flexible couplings can tolerate small degrees of angular and axial misalignment while still transmitting torque efficiently and protecting the connected equipment from excessive stress and wear.
In summary, rigid couplings are best suited for applications where precise shaft alignment can be achieved and maintained, while flexible couplings are more appropriate for systems with potential misalignment or other dynamic factors that require some degree of flexibility.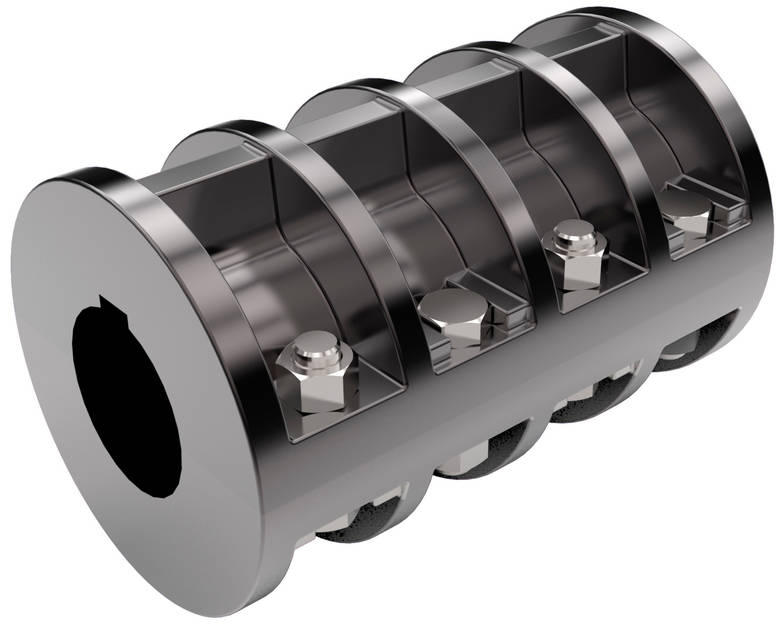 Can Rigid Couplings Be Used in Applications with Varying Operating Temperatures?
Rigid couplings are versatile mechanical components that can be used in a wide range of applications, including those with varying operating temperatures. However, the selection of the appropriate material for the rigid coupling is crucial to ensure its reliable performance under different temperature conditions.
Material Selection: The choice of material for the rigid coupling depends on the specific operating temperature range of the application. Common materials used in manufacturing rigid couplings include steel, stainless steel, and aluminum, among others. Each material has its own temperature limitations:
– Steel: Rigid couplings made from steel are suitable for applications with moderate to high temperatures. Steel couplings can handle temperatures ranging from -40°C to around 300°C, depending on the specific grade of steel used.
– Stainless Steel: Stainless steel rigid couplings offer higher corrosion resistance and can be used in applications with more demanding temperature environments. They can withstand temperatures from -80°C to approximately 400°C.
– Aluminum: Aluminum rigid couplings are commonly used in applications with lower temperature requirements, typically ranging from -50°C to around 120°C.
Thermal Expansion: When selecting a rigid coupling for an application with varying temperatures, it is essential to consider thermal expansion. Different materials have different coefficients of thermal expansion, meaning they expand and contract at different rates as the temperature changes. If the operating temperature fluctuates significantly, the thermal expansion of the rigid coupling and the connected components must be carefully accounted for to avoid issues with misalignment or binding.
Extreme Temperature Environments: For applications with extremely high or low temperatures beyond the capabilities of traditional materials, specialized high-temperature alloys or composites may be required. These materials can withstand more extreme temperature conditions but may come with higher costs.
Lubrication: The choice of lubrication can also play a role in the suitability of rigid couplings for varying temperature applications. In high-temperature environments, consideration should be given to using high-temperature lubricants that can maintain their effectiveness and viscosity at elevated temperatures.
In conclusion, rigid couplings can indeed be used in applications with varying operating temperatures, but careful material selection, consideration of thermal expansion, and appropriate lubrication are essential to ensure reliable and efficient performance under changing temperature conditions.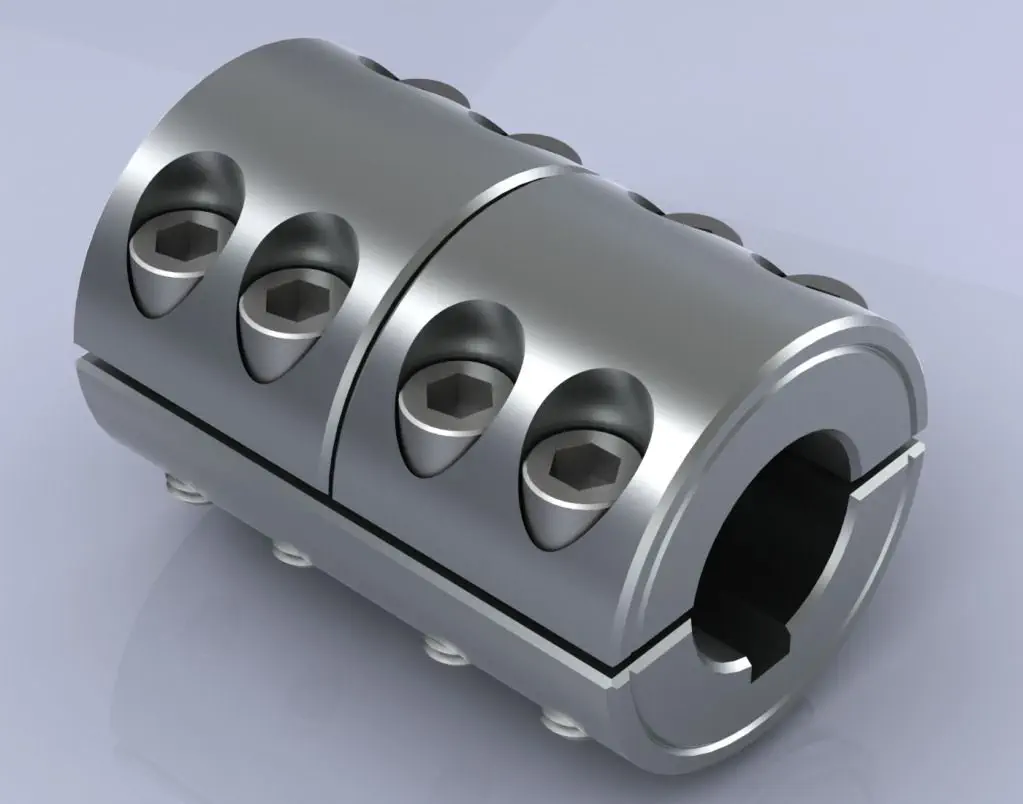 Types of Rigid Coupling Designs:
There are several types of rigid coupling designs available, each designed to meet specific application requirements. Here are some common types of rigid couplings:
1. Sleeve Couplings: Sleeve couplings are the simplest type of rigid couplings. They consist of a cylindrical sleeve with a bore in the center that fits over the shaft ends. The coupling is secured in place using setscrews or keyways. Sleeve couplings provide a solid and rigid connection between shafts and are easy to install and remove.
2. Clamp or Split Couplings: Clamp couplings, also known as split couplings, are designed with two halves that fit around the shafts and are fastened together with bolts or screws. The split design allows for easy installation and removal without the need to disassemble other components in the system. These couplings are ideal for applications where the shafts cannot be easily moved.
3. Flanged Couplings: Flanged couplings have flanges on each end that are bolted together to form a rigid connection. The flanges add stability and strength to the coupling, making them suitable for heavy-duty applications. They are commonly used in industrial machinery and equipment.
4. Tapered Couplings: Tapered couplings have a tapered inner diameter that matches the taper of the shaft ends. When the coupling is tightened, it creates a frictional fit between the coupling and the shafts, providing a rigid connection. These couplings are often used in applications where high torque transmission is required.
5. Marine or Clampshell Couplings: Marine couplings, also known as clampshell couplings, consist of two halves that encase the shaft ends and are bolted together. These couplings are commonly used in marine applications, such as propeller shafts in boats and ships.
6. Diaphragm Couplings: Diaphragm couplings are a type of rigid coupling that provides some flexibility to accommodate misalignment while maintaining a nearly torsionally rigid connection. They consist of thin metal diaphragms that transmit torque while compensating for minor shaft misalignments.
The choice of rigid coupling design depends on factors such as shaft size, torque requirements, ease of installation, and the level of misalignment that needs to be accommodated. It is essential to select the appropriate coupling design based on the specific needs of the application to ensure optimal performance and reliability.



editor by CX 2023-10-19