Product Description
Shaft Coupling with Cross-Shaped Slider (SL)
SL cross-type Oldham coupling also known as metal slider coupling, 2 end surface is provided with middle slider radial grooves and half couplings are respectively provided with tenon which was perpendicular to the middle slider at both ends of the tenon are respectively inserted, then coupling groove 2.5, forming a moving pair, if the amount of axial misalignment or deflection, motion of the slider in the groove of the slide, so to add lubricating oil working face groove and the slider, if the 2 are not concentric, when the speed is high, due to the eccentric slider will produce large centrifugal force and wear, and to bring the shaft and the loading of Jose this only applies to low speed and large load transfer.
Model
 
Tn(N·M)
 
[n]r/min
 
d
D
D1
L
H
S 
 
(kg.m 2 )
 
(kg)
SL70
120
250
15~18
70
32
42
14
0.5
0.002
1.5
SL90
250
250
20~30
90
45
52
14
0.008
2.6
SL100
500
250
36~40
100
60
70
19
0.026
5.5
SL130
800
250
45~50
130
80
90
19
0.07
10
SL150
1250
250
55~60
150
95
112
19
0.14
15.5
SL170
2000
250
65~70
170
105
125
24
0.25
22.4
SL190
3200
250
75~80
190
110
140
29
0.5
31.5
SL210
5000
250
85~90
210
130
160
33
1.0
0.9
45
SL240
8000
250
95~100
240
140
180
33
1.6
59.5
SL260
9000
250
100~110
260
160
190
33
2
76
SL280
10000
100
110~120
280
170
200
33
3
94.3
SL300
13000
100
120~130
300
180
210
43
4.3
111
SL320
16000
100
130~140
320
190
220
43
5.7
129
SL340
20000
100
150
340
210
250
48
8.4
162
SL360
32500
100
160
360
240
280
48
19.2
258
SL400
38700
80
170
400
260
300
48
26.1
305
SL460
63000
70
200
460
300
350
58
62.9
560
Detailed Photos
Company Profile
HangZhou CHINAMFG Machinery Manufacturing Co., Ltd. is a high-tech enterprise specializing in the design and manufacture of various types of coupling. There are 86 employees in our company, including 2 senior engineers and no fewer than 20 mechanical design and manufacture, heat treatment, welding, and other professionals.
Advanced and reasonable process, complete detection means. Our company actively introduces foreign advanced technology and equipment, on the basis of the condition, we make full use of the advantage and do more research and innovation. Strict to high quality and operate strictly in accordance with the ISO9000 quality certification system standard mode.
Our company supplies different kinds of products. High quality and reasonable price. We stick to the principle of "quality first, service first, continuous improvement and innovation to meet the customers" for the management and "zero defect, zero complaints" as the quality objective. 
Our Services
1. Design Services
Our design team has experience in Cardan shafts relating to product design and development. If you have any needs for your new product or wish to make further improvements, we are here to offer our support.
2. Product Services
raw materials → Cutting → Forging →Rough machining →Shot blasting →Heat treatment →Testing →Fashioning →Cleaning→ Assembly→Packing→Shipping
3. Samples Procedure
We could develop the sample according to your requirement and amend the sample constantly to meet your need.
4. Research & Development
We usually research the new needs of the market and develop new models when there are new cars in the market.
5. Quality Control
Every step should be a particular test by Professional Staff according to the standard of ISO9001 and TS16949.
FAQ
Q 1: Are you a trading company or a manufacturer?
A: We are a professional manufacturer specializing in manufacturing
various series of couplings.
Q 2:Can you do OEM?
Yes, we can. We can do OEM & ODM for all customers with customized PDF or AI format artwork.
Q 3:How long is your delivery time?
Generally, it is 20-30 days if the goods are not in stock. It is according to quantity.
Q 4: Do you provide samples? Is it free or extra?
Yes, we could offer the sample but not for free. Actually, we have an excellent price principle, when you make the bulk order the cost of the sample will be deducted.
Q 5: How long is your warranty?
A: Our Warranty is 12 months under normal circumstances. 
Q 6: What is the MOQ?
A: Usually our MOQ is 1pcs.
Q 7: Do you have inspection procedures for coupling?
A:100% self-inspection before packing.
Q 8: Can I have a visit to your factory before the order? 
A: Sure, welcome to visit our factory.
Q 9: What's your payment?
A:1) T/T. 
♦Contact Us
Web: huadingcoupling
Add: No.11 HangZhou Road,Chengnan park,HangZhou City,ZheJiang Province,China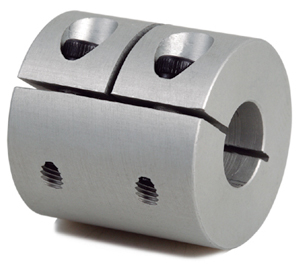 Can Rigid Couplings Accommodate High Torque and High-Speed Applications?
Yes, rigid couplings are well-suited for high torque and high-speed applications. Their design and construction allow them to efficiently transmit large amounts of torque and handle high rotational speeds without compromising performance or introducing backlash.
Rigid couplings are typically made from robust materials, such as steel or aluminum, which provide high strength and stiffness. This allows them to withstand substantial torque loads without deformation or failure. Additionally, rigid couplings do not have flexible elements, such as elastomers or springs, which can be a limiting factor in high-torque applications.
The absence of flexible elements also means that rigid couplings have minimal backlash. Backlash is the clearance between mating teeth in a coupling and can cause position inaccuracies, especially in high-precision systems. Since rigid couplings have a solid, one-piece design, they offer precise and immediate torque transmission, making them suitable for applications requiring high accuracy and repeatability.
Furthermore, the solid construction of rigid couplings allows them to handle high rotational speeds. They do not exhibit the bending or torsional flexibility seen in some other coupling types, which can be limiting factors in high-speed applications. As a result, rigid couplings are commonly used in various high-speed machinery, such as power transmission systems, motors, pumps, and industrial equipment.
However, it is essential to ensure proper alignment and installation when using rigid couplings in high-torque and high-speed applications. Any misalignment between the shafts can lead to increased stresses and premature failure. Regular maintenance, including shaft alignment checks, can help ensure optimal performance and longevity in such demanding applications.
In summary, rigid couplings are an excellent choice for high torque and high-speed applications due to their robust design, minimal backlash, and ability to provide precise torque transmission. When correctly installed and maintained, rigid couplings can reliably handle the demands of various industrial and mechanical systems.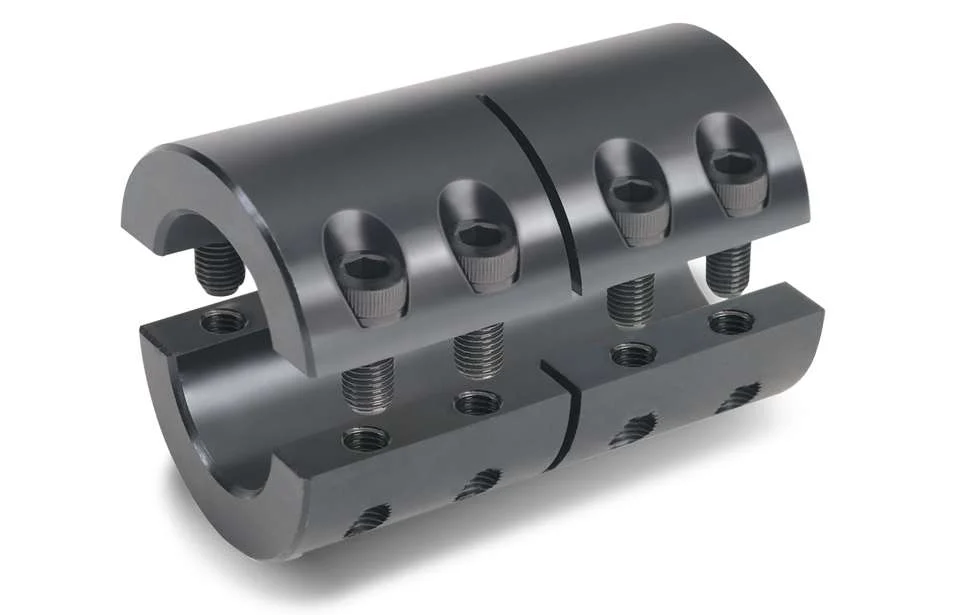 What Industries Commonly Use Rigid Couplings for Power Transmission?
Rigid couplings are widely used in various industries for power transmission applications that require a solid and reliable connection between rotating shafts. Some of the industries that commonly utilize rigid couplings include:
Manufacturing: In the manufacturing industry, rigid couplings are employed in a wide range of equipment, such as conveyors, mixers, pumps, compressors, and machine tools. These couplings ensure precise power transmission and alignment, making them ideal for maintaining accuracy in manufacturing processes.
Material Handling: Material handling equipment, including cranes, hoists, and elevators, often rely on rigid couplings to transfer power between shafts efficiently. Rigid couplings provide a robust connection that can handle the heavy loads and continuous operation common in material handling applications.
Automotive: The automotive industry employs rigid couplings in various automotive systems, including drive shafts, transmissions, and steering systems. Rigid couplings contribute to the overall performance and reliability of these components, ensuring smooth power transfer and minimizing vibration.
Mining and Construction: In the mining and construction industries, rugged and durable power transmission components are crucial. Rigid couplings are used in equipment like crushers, mills, and heavy-duty conveyors, where they can withstand the harsh conditions and heavy loads commonly found in these applications.
Oil and Gas: The oil and gas industry often utilizes rigid couplings in pumps, compressors, and drilling equipment. Rigid couplings offer consistent and dependable power transmission, which is essential for critical operations in this sector.
Marine: In marine applications, such as ship propulsion systems and marine pumps, rigid couplings are used to transmit power between the ship's engine and various equipment. They can handle the dynamic forces and vibrations encountered in marine environments.
Aerospace: In aerospace applications, where precision and reliability are paramount, rigid couplings play a role in power transmission between various aircraft components.
Rigid couplings are chosen in these industries for their ability to maintain shaft alignment, resist misalignment, and provide a backlash-free connection. Their robust construction and simple design make them suitable for high torque and high-speed applications, where precision and efficiency are crucial.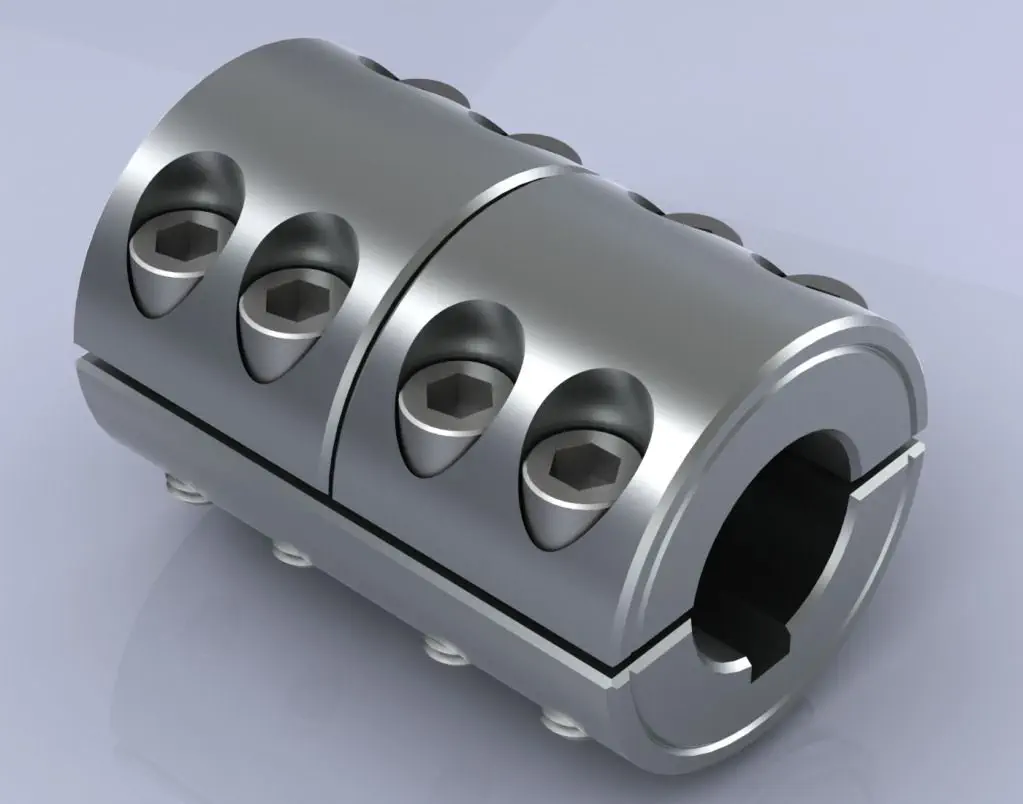 Types of Rigid Coupling Designs:
There are several types of rigid coupling designs available, each designed to meet specific application requirements. Here are some common types of rigid couplings:
1. Sleeve Couplings: Sleeve couplings are the simplest type of rigid couplings. They consist of a cylindrical sleeve with a bore in the center that fits over the shaft ends. The coupling is secured in place using setscrews or keyways. Sleeve couplings provide a solid and rigid connection between shafts and are easy to install and remove.
2. Clamp or Split Couplings: Clamp couplings, also known as split couplings, are designed with two halves that fit around the shafts and are fastened together with bolts or screws. The split design allows for easy installation and removal without the need to disassemble other components in the system. These couplings are ideal for applications where the shafts cannot be easily moved.
3. Flanged Couplings: Flanged couplings have flanges on each end that are bolted together to form a rigid connection. The flanges add stability and strength to the coupling, making them suitable for heavy-duty applications. They are commonly used in industrial machinery and equipment.
4. Tapered Couplings: Tapered couplings have a tapered inner diameter that matches the taper of the shaft ends. When the coupling is tightened, it creates a frictional fit between the coupling and the shafts, providing a rigid connection. These couplings are often used in applications where high torque transmission is required.
5. Marine or Clampshell Couplings: Marine couplings, also known as clampshell couplings, consist of two halves that encase the shaft ends and are bolted together. These couplings are commonly used in marine applications, such as propeller shafts in boats and ships.
6. Diaphragm Couplings: Diaphragm couplings are a type of rigid coupling that provides some flexibility to accommodate misalignment while maintaining a nearly torsionally rigid connection. They consist of thin metal diaphragms that transmit torque while compensating for minor shaft misalignments.
The choice of rigid coupling design depends on factors such as shaft size, torque requirements, ease of installation, and the level of misalignment that needs to be accommodated. It is essential to select the appropriate coupling design based on the specific needs of the application to ensure optimal performance and reliability.



editor by CX 2023-11-07